Order Picker Hire & Sales
Find the best prices on order pickers from your local dealers.
We've helped customers find the best deals in their area The new way to buy and hire forklifts
We simplify the forklift hire and sales process and save you money! Instead of spending hours researching and contacting local dealers individually, let Forkify do the heavy lifting for free!

Connect with Certified Local Dealers
Enter your requirements and we'll find suitable dealers in your area.

We Find the Best Deals
We search and compare deals from your local dealer to ensure you get the best price.

You'll See Your Savings
We put you in touch with dealers that provide the best value for money, meaning more savings for you.
What is an Order Picker?
An Order Picker is a specialized piece of equipment used in warehouse operations that assists operators in reaching items stacked at higher levels. Though similar to forklifts, order pickers are equipped with a platform on which a worker can stand to pick a given item from the inventory.
In modern logistics, order pickers are used for accurate retrieval of products from multiple piles to create the final order. Since warehouses are usually stocked with equipment packages, order pickers are extremely useful whenever a single item needs to be retrieved from bundled equipment.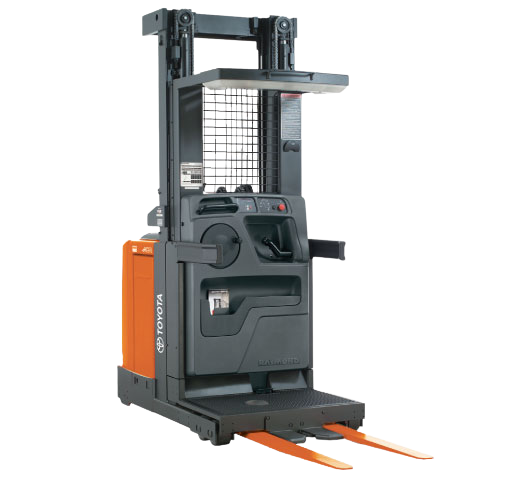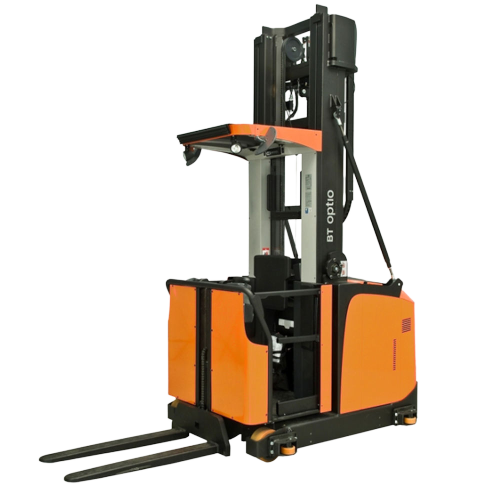 Ground Level Order Pickers
Ground Level Order Pickers are considered the most suitable vehicles for preparing orders when all the pallets or full loads are placed on the ground. These vehicles help operators select between various loads to create the final order, especially in warehouses with lower investment and smaller SKUs. Ground level order pickers not only help speed up the picking process but also can help minimize the chances of errors while preparing orders by providing easy access to all the items.
Low-level Order Pickers
Low Level Order Pickers are designed to help operators reach lower heights, typically up to around 2.5m. They typically lift the operator to around 1m, allowing them to easily access items on lower shelves or racks. To ensure maximum safety, some Low Level Order Pickers are equipped with safety mats or vibration-cushioned platforms for a smooth working operation.
These machines are especially useful in warehouses where equipment is stacked on top of each other to optimize storage space. By allowing personnel to easily access lower shelves, Low Level Order Pickers help maximize productivity and minimize the risk of injury or errors.
Medium to High Level Order Pickers
Medium to High Level Order Pickers are specialized equipment used in warehouses to retrieve items from shelves and racks at medium to high levels, typically between 2.5m to 10m. These order pickers allow operators to access higher racks and shelves, making them ideal for larger warehouses with high-density storage.
Similar to other types of order pickers, medium to high-level order pickers have a lifting mechanism that can be used to adjust the height of the operator platform. They may also be equipped with features such as side-shifting or tilting forks to make it easier to retrieve items from awkward angles or positions.
Since these order pickers are designed for use at higher levels, they also come with enhanced safety features such as sturdy guardrails and anti-slip platforms to ensure maximum safety for operators. Medium to High Level Order Pickers are ideal for large-scale operations that require fast and efficient retrieval of items from high shelves or racks.
Find Your Order Picker Now
How Much Does an Order Picker Cost?
*based on 7 day hire in the UK
Top Uses For Order Pickers

Warehouse Stock Management
In an online business like Amazon, maintaining stock levels is crucial. Once an order has been dispatched, the operator must restock the inventory before it runs out to ensure continuity in sales. A common method of restocking involves using Order Pickers to individually place the items in a systematic order, thus refreshing the stock efficiently. 

Pharmaceutical company
For pharmaceutical companies Order Pickers are incredibly useful in fully customizing orders for each recipient according to their unique needs. This customization may include selecting the specific medicines and quantities required for each pharmacy or hospital, along with any additional items needed for successful distribution. Order Pickers allow pharmaceutical companies to efficiently retrieve and package individual components from multiple stock locations, ensuring that every order is tailored to the recipient's specific needs.

Vehicles' Parts Company
In a factory warehouse that produces multiple vehicle parts requiring a systematic storage approach, Order Pickers can play a vital role in improving operational efficiency. These machines are well-suited for dispatching a set of certain parts or multiple parts as one unit by swiftly navigating through the storage racks and selecting the correct part or set of parts.
Order Picker Specification
| | |
| --- | --- |
| Lift Height | Up to 12m |
| Load Capacity | 400-1,300kg |
| Lift Duration | Up to 3,000+ hours  |
| | |
| --- | --- |
| Weight | Up to 3,000kg |
| Dimensions (LxW) | 2m x 1.5m |
| Ground Clearance | Up to 100mm |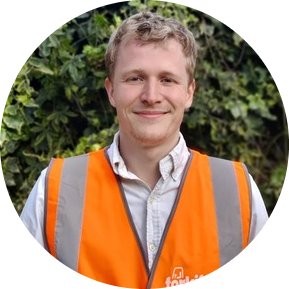 What Our Expert Says
"Order pickers are the perfect solution for when you need complete precision in your warehouse stock management. Their high lift height means you can stack high while still maintaining easy access to everything."
Will Bradley, Co-Founder at Forkify
Should I Buy or Hire an Order Picker?
Determining whether to buy or hire an order picker depends on several factors, including your budget and specific requirements. If you have a tight budget or limited personnel, and only occasional use, it may be more cost-effective to opt for hiring an order picker. However, if you have a larger warehouse or require long-term usage for six months to a year, buying may be the better option if you have a flexible budget.
Before purchasing an order picker, you should consider the type, class, and brand of the equipment. Each has different specifications and features that may be better suited for different operations. If hiring an order picker is the better choice for your needs, it's essential to consider the rental charges and the timing of use to ensure you're getting the maximum value.
Overall, the choice between buying or hiring an order picker is dependent on several factors and requires careful consideration of your budget, warehouse size, and operational requirements.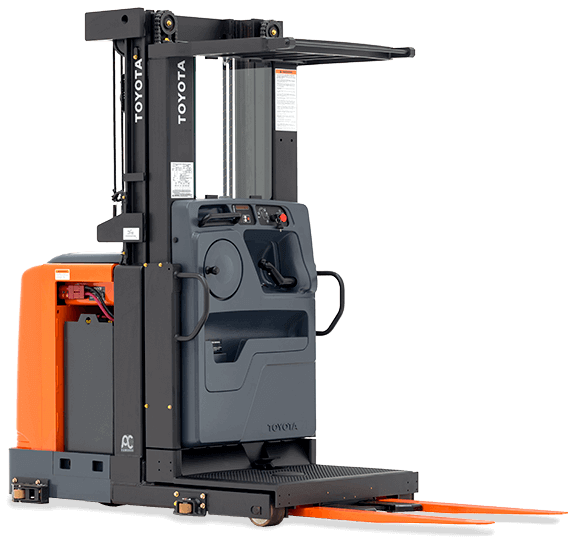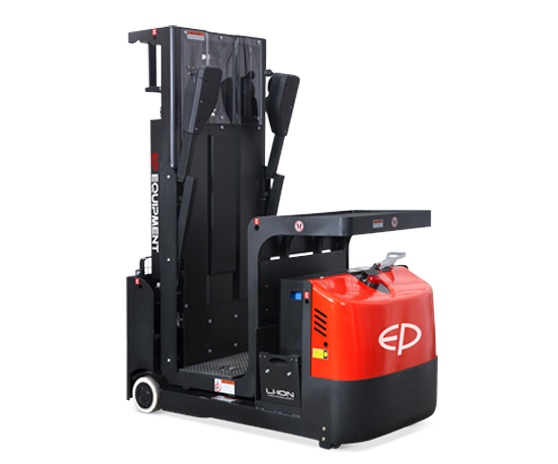 How Does It Work?
Simplify the process of finding your ideal order picker with Forkify. We'll connect you with trusted local dealers and help you compare deals to save time and effort. Our personalised approach ensures that you receive tailored recommendations that fit your unique business needs and budget.
With Forkify's expertise in the industry, you can trust that you'll be matched with the best possible options. Let Forkify do the work for you and get you one step closer to increasing your efficiency and productivity.
Popular Order Picker Brands Frequently Asked Questions
What is the best Order Picker brand?
It all depends upon your requirements. The main manufacturers are LINDE, STILL, CLARK, RAYMOND, CROWN, JUNGHEINRICH, TAWI, MITSUBISHI, CAT Lift Trucks, TOYOTA etc. We'd recommend speaking with an expert if you don't have a particular brand in mind yet. 
Is an order picker a forklift?
An order picker is not a forklift. While both order pickers and forklifts are used in warehouse operations, they serve different purposes. Forklifts are best suited for lifting heavy loads and placing them on high racks, whereas order pickers are designed to retrieve smaller items from shelves in a more efficient way. Order pickers have a platform for a human operator to stand on while they retrieve items, whereas forklifts have a cabin for an operator to sit in and use to lift and move heavy loads.
Where do Order Pickers fit into warehouse operations?
Order Pickers play a significant role in warehouse operations, as they are responsible for retrieving items from the warehouse that are too small to be handled mechanically. This job requires a human to operate on a platform for maximum efficiency. Additionally, order pickers are also tasked with restocking shelves once an order has been shipped, making it easier for the warehouse personnel to keep the shelves properly stocked, and everything running efficiently.
What does an Order Picker do?
An Order Picker's primary role is to allow warehouse operators to manage the warehouse equipment efficiently. By enabling operators to reach high and low level stacks in the storage area, order pickers facilitate the retrieval, labelling, and rearrangement of items more professionally. This can improve productivity and organization within the warehouse. Additionally, order pickers are essential for transferring items safely and efficiently, ensuring that the warehouse's items are properly organized and stored.
Order Picker VS Reach Truck: What's the difference?
Order Pickers and Reach Trucks are two types of equipment commonly used in warehouse operations, and while similar in function, there are some key differences.
Order Pickers are designed to retrieve smaller items from high shelves, and require a human operator to stand on a platform and manually retrieve the items. They are typically used for order picking, and can also be used to restock shelves after an order has been shipped.
On the other hand, Reach Trucks are designed to lift and move heavier loads, and are best suited for use in high-rise storage racks. They have a cabin for the operator to sit in and control the machine, and they use a telescopic mast to reach high shelves. Reach trucks are ideal for organizing and retrieving larger items from high or narrow aisles, which makes them perfect for efficient, high-volume operations.
Overall, while there is some overlap in functionality between Order Pickers and Reach Trucks, each machine is designed to be used in slightly different situations, depending on the demands of the warehouse operation.
Order Picker vs Low Level Order Picker: What's the difference?
An Order Picker, as explained earlier, is designed to retrieve smaller items from high shelves, and requires a human operator to stand on a platform or in a cabin and manually retrieve the items. This makes them perfect for retrieving items from higher shelves or narrow aisles.
Low Level Order Pickers, on the other hand, are designed to pick items from ground level. They typically have a platform for the operator to stand on, but don't require the operator to reach high shelves. This makes them ideal for handling larger items that may be too heavy or unwieldy for an individual operator to manage alone.
Overall, the main difference between an Order Picker and a Low Level Order Picker is the height at which they are designed to operate. While both machines can be used for order picking, the Order Picker is best suited for retrieving smaller items from high shelves, and the Low Level Order Picker is best suited for handling larger items at ground level.