Telehandler Hire & Sales
Compare prices on Telehandlers from trusted local dealers.
We've helped customers find the best deals in their area The new way to buy and hire forklifts
We simplify the forklift hire and sales process and save you money! Instead of spending hours researching and contacting local dealers individually, let Forkify do the heavy lifting for free!

Connect with Certified Local Dealers
Enter your requirements and we'll find suitable dealers in your area.

We Find the Best Deals
We search and compare deals from your local dealer to ensure you get the best price.

You'll See Your Savings
We put you in touch with dealers that provide the best value for money, meaning more savings for you.
What is a Telehandler?
A telehandler is a multifunctional machine designed for lifting and transporting materials in various industries. Telehandlers are the perfect solution for rough terrain and hard-to-reach areas, due to their ability to extend a telescopic boom.
Commonly seen on farms for moving hay bales, telehandlers have become a popular workhorse on construction sites. Its versatility largely comes from changing its attachments to best suit the task at hand. For example, attaching a pallet fork turns a telehandler into a forklift with an extended reach. On the other hand, attaching a crane jib equips it with the ability to reach inaccessible areas. Other popular telehandler attachments include buckets, claws, tipping skips, and lifting hooks. The flexibility of the telehandler is what makes them cost-effective, helping businesses save money by investing in a single machine that can accomplish multiple tasks.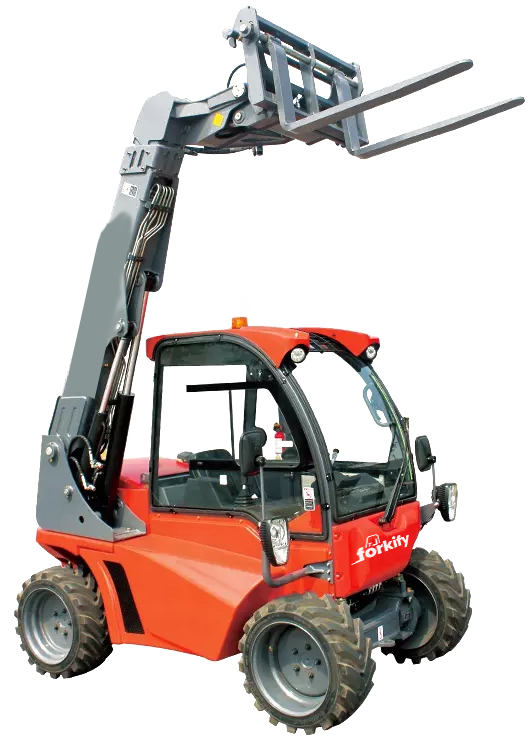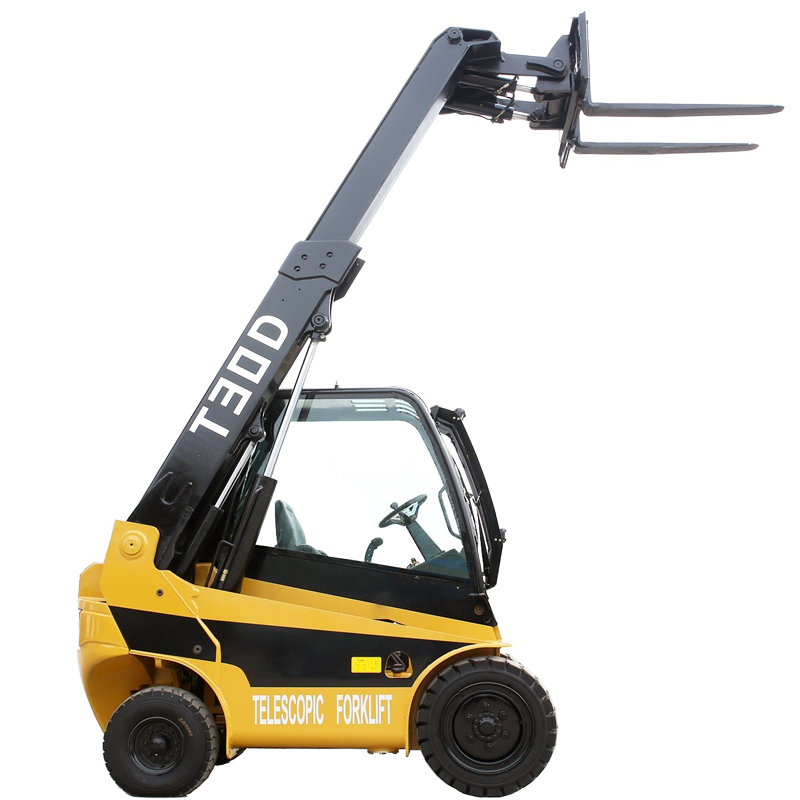 Fixed Boom Telehandlers
Fixed boom telehandlers have a stationary cab with a telescoping boom facing forward that provides better stability when carrying heavy loads. Although they have a more limited range of movement compared to other types of telehandlers, they have a longer boom and are ideal for sites where space is limited.
Fixed boom telehandlers offer more carrying and transport options compared to forklifts, allowing for the lifting of heavier loads at greater heights and distances. They're an excellent choice for transporting equipment or supplies over rough terrain or long distances, making them a suitable option for construction and agricultural work.
Rotational Telehandlers
Rotating telehandlers are designed with cabs and booms that can rotate 360 degrees while the body remains stationary. This feature allows the telescopic boom to have a much higher range of movement, making it ideal for use in tight spaces. Additionally, the ability to rotate the cab and boom saves time since it eliminates the need for the vehicle to be maneuvered around when picking up and placing materials in different areas.
While they are unable to lift the same weight and height as fixed boom telehandlers, rotating telehandlers are still highly versatile machines with impressive capabilities. This feature has made them increasingly popular on construction sites where space is limited and complex maneuvers are required.
Heavy Lift Telehandlers
Heavy lift telehandlers are specifically designed to handle heavy loads and are commonly used in industries such as manufacturing, mining, and ports. They are built to cope with the most demanding lifting tasks, often handling loads weighing up to 50 tonnes.
Combining speed, high stability, and reliability, heavy lift telehandlers are ideal for extreme conditions where heavy-duty lifting is required. They are also fuel-efficient and boast great maneuverability, making them a popular choice in the transportation and lifting of heavy materials.
Overall, heavy lift telehandlers are perfect for heavy lifting tasks that require a balance of power, endurance, and precision. Their versatility and performance make them an invaluable asset for industries where heavy-duty lifting is a regular occurrence.
Small Telehandler
Small Telehandlers are impressive machines that are known for their versatility and power when it comes to lifting tasks. Their range of shapes and sizes can cater to all sorts of work, from lighter tasks to heavy-duty applications that demand more horsepower. One of their primary features is their compact design, which allows them to fit into tight spaces and manoeuvre easily around obstacles. These remarkable machines can move equipment, building materials, and goods faster and with much ease around the job site, making them an indispensable tool for any project.
Find Your Telehandler Now
How Much Does a Telehandler Cost?
*based on 7 day hire in the UK
Most Common Uses For Telehandlers

Lifting, Moving and Placing Heavy Loads
Telehandlers are specifically designed for lifting, moving, and placing heavy loads safely and efficiently. They are equipped with telescopic booms that can extend to significant heights, allowing for easy access to hard-to-reach areas.

Clearing Sites
Telehandlers are an excellent solution for clearing up areas, thanks to their versatility and attachments. Fitted with bucket attachments, telehandlers can easily load, carry and dump waste within a short space of time, making them suitable for construction and agricultural waste management.

A Raised Work Platform
A telehandler can be fitted with a work platform attachment so workers can safely and comfortably access high areas such as when they need to work on power lines or streetlights. Work platforms are sturdy, with guard rails and non-slip floors for added safety.
Telehandler Specification
| | |
| --- | --- |
| Lift Height | 4m -17m  |
| Lifting Capacity | 2000kg -10,000kg |
| Lift Duration | 30-90 s |
| | |
| --- | --- |
| Weight | 4000kg – 8000kg |
| Dimensions (L x W x H) | 3.5m x 1.5m x 2m (Avg.) |
| Ground Clearance | 0.23m – 0.48m |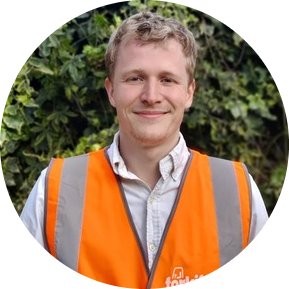 What Our Expert Says
"Telehandlers are an absolute must-have on construction sites these days, thanks to their power, versatility, and ability to operate on uneven ground. By making use the wide array of attachments available, you can use a telehandler like a traditional forklift, a crane, or even an aerial work platform. They are truly the swiss army knife of forklifts! "
Will Bradley, Co-Founder at Forkify
Should I Buy or Hire a Telehandler?
Buying a telehandler is more cost-effective for long-term projects, as there is an initial outlay. However, this doesn't take into account factors such as storage and maintenance costs, not to mention the additional cost of extra attachments. These expenses can be unpredictable and can add up, so hiring a telehandler may end up being cheaper in the long run.
When hiring a telehandler, those additional costs are taken care of, giving you greater peace of mind and control over your budget. This approach is reflected in the current market trend – almost 90% of customers now opt to rent their telehandlers instead of buying them. With renting, you also get access to the latest models tailored for each job.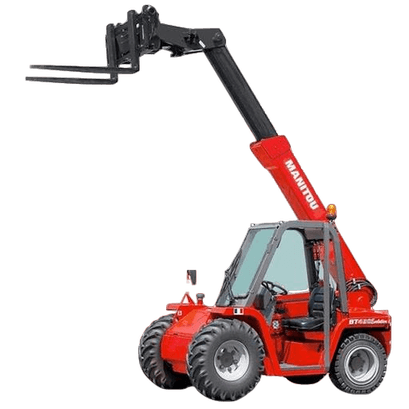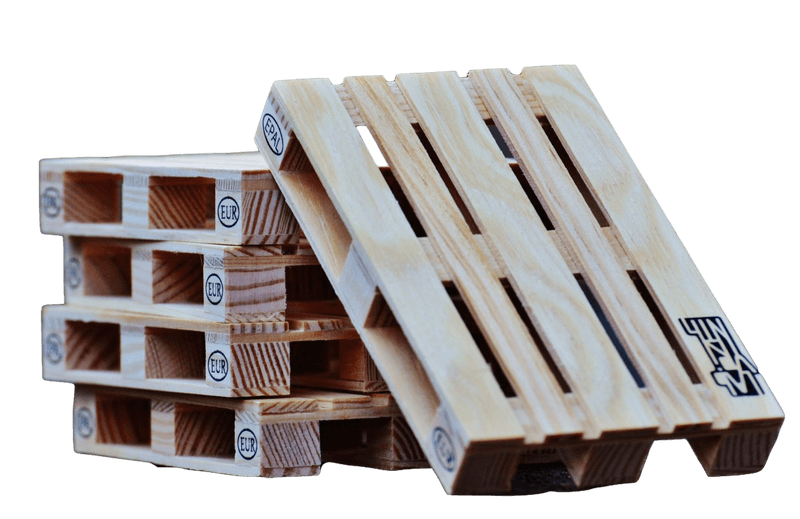 How Does It Work?
Submit your Telehandler requirements and let Forkify do the heavy lifting! We'll connect you with our network of local dealers, meaning you can sit back and compare deals to find the best fit for your business!
Popular Telehandler Brands Frequently Asked Questions
Is a telehandler the same as a forklift?
While a telehandler and a forklift are often used interchangeably, they are not the same. A telehandler is a multi-purpose machine that has a telescopic boom and a forklift attachment, while a forklift is primarily used for lifting and moving pallets. Telehandlers have a greater reach and more versatility than forklifts, and can perform tasks such as digging, grading, and material handling.
What are telehandlers used for?
Telehandlers are used for a variety of tasks across multiple industries. Here are some common uses of telehandlers:
Construction: Telehandlers are commonly used in construction for heavy-duty tasks such as hoisting materials, digging, and grading.
Agriculture: Telehandlers are used in agriculture as farm machinery for tasks such as loading and unloading materials, lifting and transporting hay bales, and digging.
Warehousing: Telehandlers are used in warehouses to move and lift pallets and other materials around the facility.
Landscaping: Telehandlers are used in landscaping for tasks such as material handling, grading, and digging.
Oil and gas: Telehandlers are used in the oil and gas industry to move heavy loads and materials in and around drilling sites.
Overall, telehandlers can be used for any task that requires moving or lifting materials or equipment with versatility and precision.
What size telehandler do I need?
Telehandlers come in a range of sizes, from 4m to 20m, and selecting the right size depends on the terrain and job requirements. It's essential to review the individual model's load chart before hiring to ensure it is suitable for your intended use. If you are unsure, do not hesitate to contact us for advice and guidance.
In general, a light telehandler with a reach of 5-7 meters is ideal for agricultural use, such as moving hay bales or light-medium duties on construction sites that require an all-terrain forklift. Standard telehandlers with a range of 8-18 meters are better suited for larger agricultural tasks, particularly in wet and muddy conditions or uneven terrain, and general heavy lifting and clean up on construction sites.
For tasks where a small crane, elevated work platform, or loading high-sided trucks or hoppers is needed, a telehandler with a reach of 19 meters or more is an excellent choice. These larger models have better ground clearance for waste management tasks.
Which telehandler is the best?
It's difficult to say which telehandler is the "best" as it depends on your specific needs and requirements. Different models of telehandlers have varying load capacities, lift heights, and reach capabilities that may make them better suited for certain tasks or industries. Additionally, some telehandlers have features such as 4-wheel steering, which can provide greater maneuverability in tight spaces.
It's essential to evaluate your intended use, job requirements and budget before choosing a telehandler. Consulting with a reputable equipment dealer or rental company is also recommended, as they can offer expert guidance in selecting the best machine for your needs.
Ultimately, the "best" telehandler is one that can safely and effectively perform the tasks required for your project in a cost-effective manner.
How long do telehandlers last?
The lifespan of a telehandler depends on several factors, including its usage, maintenance, and the operating conditions. With proper maintenance and care, a telehandler can last for 10,000 operating hours, or around 10-15 years of service life.
Regularly scheduled maintenance, such as fluid changes, filter replacements, and regular inspections, can help extend the lifespan of a telehandler. Additionally, operators should properly clean and store the telehandler after use and avoid overloading the machine beyond its maximum operating capacity.
However, harsh operating conditions such as exposure to extreme temperatures, corrosive environments, and constant heavy use can shorten the lifespan of a telehandler. Therefore, it's essential to evaluate the working environment and job requirements before selecting a telehandler and to and take into account the maintenance requirements needed for the machine to operate at optimum performance levels.
How much weight can a telehandler lift?
The weight capacity of a telehandler depends on several factors, including the model of the telehandler, the length of the boom, and the weight distribution of the load.
In general, telehandlers have different weight capacities depending on the length of the boom and the weight distribution of the load. On average, a telehandler can lift anywhere from 1,600 kg to 4,500 kg, or 3,500 lbs to 10,000 lbs. However, there are models with weight capacities that exceed 50 tons!
It's essential to review the manufacturer's load chart before operating the telehandler to ensure that the load capacity is not exceeded, and the load being lifted is properly distributed to maintain stability and prevent tipping.