Summary
How to know if renting a forklift is the right option for you
Learn how much forklift rental typically costs depending on type
Understand what's included when renting a forklift and how to get the best deal
So you need to rent a forklift? Forklifts are heavy-duty machines that can be used for a variety of purposes, including lifting and moving heavy objects. If you've never rented one before, it can be a little daunting. How do you know which forklift is right for your needs? How much does it cost to rent one? And how long can you keep it? In this article, we will answer all of your questions and help make the process as easy as possible!
Is Forklift Rental The Right Option For You?
 Before you start the process of renting a forklift, it's important to make sure that rental is the best option for your specific needs. While there are plenty of advantages to renting, including not having to pay upfront or commit to a long-term lease agreement, there are also some drawbacks. For instance, if you need a forklift for an ongoing project, you may want to consider buying one instead. This way, you'll own the equipment so you won't have to keep paying additional costs and rental fees.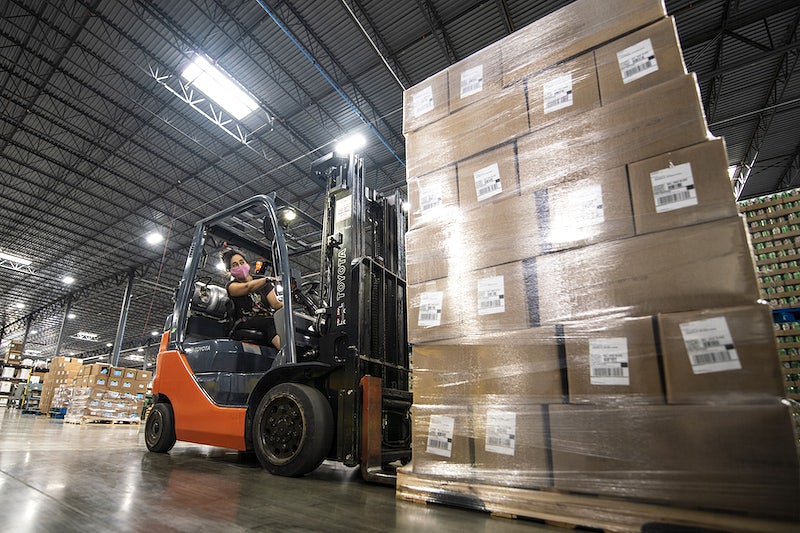 The Benefits Of Renting A Forklift
Renting a forklift is often the best option for those who need temporary access to a machine. Here are some of the main benefits:
Low upfront costs

– renting means lower initial cost, so you don't have to make an expensive purchase to get started, and don't have the worry of owning a depreciating asset.

Flexibility

– you can rent a forklift for different periods, so you can rent one for a day or a month, allowing you to scale up or down your fleet depending on demand.

Try Something New

– Renting a forklift gives you the ability to try a new machine before you commit a large sum of money to buy one, this is one of the best ways to ensure you are going to get value from your machine!

Safety

– renting from a reputable company means that the forklift will be in tip-top condition and up to all safety standards.

Maintenance Is Included

– renting a forklift from a reliable company also usually includes regular maintenance checks, so you don't have to worry about the maintenance cost or the extra cost of repairs.

Predictable Costs

– While buying a forklift might be better value for longer term projects, renting avoids any unforeseen costs. 
Where Can You Rent A Forklift?
There are many large rental companies and local dealers that offer forklift hire for both limited time and long-term projects this can make a proper comparison of rental prices a painfully slow task.
Finding the right rental company can be difficult with so many to choose from online, keep it simple and instead of spending hours researching and contacting local dealers let Forkify do the heavy lifting for free! Simply enter a few details and the Forkify experts will put you in contact with the best local dealers that provide the very best deals! 
The Cost Of Renting A Forklift
The cost of forklift rental in the UK varies based on a few factors including the types of forklift, the length of your rental contract, the special attachments you require and the forklift fuel type. Here are the average rental costs for the most common types of forklifts. (All the information below is based on the best prices from top dealers at the time of writing, renting for less than 12 months and using the truck for less than 20 hours per week. They also don't include VAT.) 
Lift Trucks
Scissor Lifts – The average cost for weekly rental of a scissor lift starts at £300 + delivery costs.
Cherry Pickers – The average weekly rental rate for a boom lift starts at £400 + delivery costs.
Warehouse Forklifts
Electric Forklift – The weekly cost of an electric forklift rental starts at just £400 + delivery.
Order Pickers – The average weekly rental cost for Order pickers is around £400 + delivery.
Reach Trucks – The weekly cost of a reach truck starts at £300 + delivery costs.
Pallet Trucks – Pallet jacks are one of the cheapest forklift types to rent starting at an average weekly cost of £300 + delivery.
Other Common Industrial Truck Types
Rough Terrain Forklift – The average weekly cost of renting a rough terrain forklift starts at £500 + delivery.
Telehandlers – The average weekly cost of renting a telescopic handler forklift starts at £1,000 + delivery.
As you can see there are many different costs associated with renting a forklift, so it's important to do your research and find the best deal for you. Forkify is always on hand to help you find a great rental deal and help you get the right forklift for your job.
 Tips To Get The Best Price When Renting A Forklift
Here is how to get the very best price when renting a forklift:
Know your requirements – Take the time to understand what it is you need, and for what length of time you need the material handling equipment. This will allow you to make a more informed decision and help reduce your rental costs, you should:
Estimate the number of hours per week you will be using each rented truck.

Calculate the overall rental agreement time.

Think about how many trucks you need.

Consider the lift heights and weight capacity you require, prices can differ massively dependant on the load capacity required.

Think about your preferred fuel type if an electric forklift is what you require, which battery type? Or if a gas-powered or diesel forklift is preferred, be sure to look at the diesel options. 
Compare prices – Once you have an idea of which type of material handling equipment best fits your needs and the length of time it is required fill in your requirements on forkify.com and receive quotes from local dealers straight to your inbox. This is the best method as many times dealers will offer special discounts that aren't advertised online in order to stay competitive.
Always check the terms – Make sure you read the terms and conditions of your rental agreement carefully before signing, to avoid any hidden cost and to make sure everything you require in included.
What's Included In A Forklift Rental
The forklift rental industry has become very competitive in the last few years, this is great news for you as it means forklift dealers are offering more for the price! The following items are usually included within your monthly payments:
A fully serviced and maintained forklift with enough fuel to get started.

Insurance to cover damages to the machine and provide

legal liability protection

while operating.

Scheduled maintenance checks throughout your contract as stipulated by law.

Breakdowns and repairs assistance.

A designated dealer contact person should you have any issues.

For electric lift trucks extra batteries and battery chargers are also usually included.
Some forklift companies may also offer forklift operators higher along with the truck allowing you to have a highly trained professional using your truck at all times.
Conclusion
When renting a forklift it's important to make sure you're getting all that you need so your business benefits from your new rental. Take the time to review all terms and conditions before signing any contract, use Forkify for free to compare prices and find great deals on local rentals! Renting any type of forklift doesn't have to be difficult, get started today!